Rendlesham Primary School, Rendlesham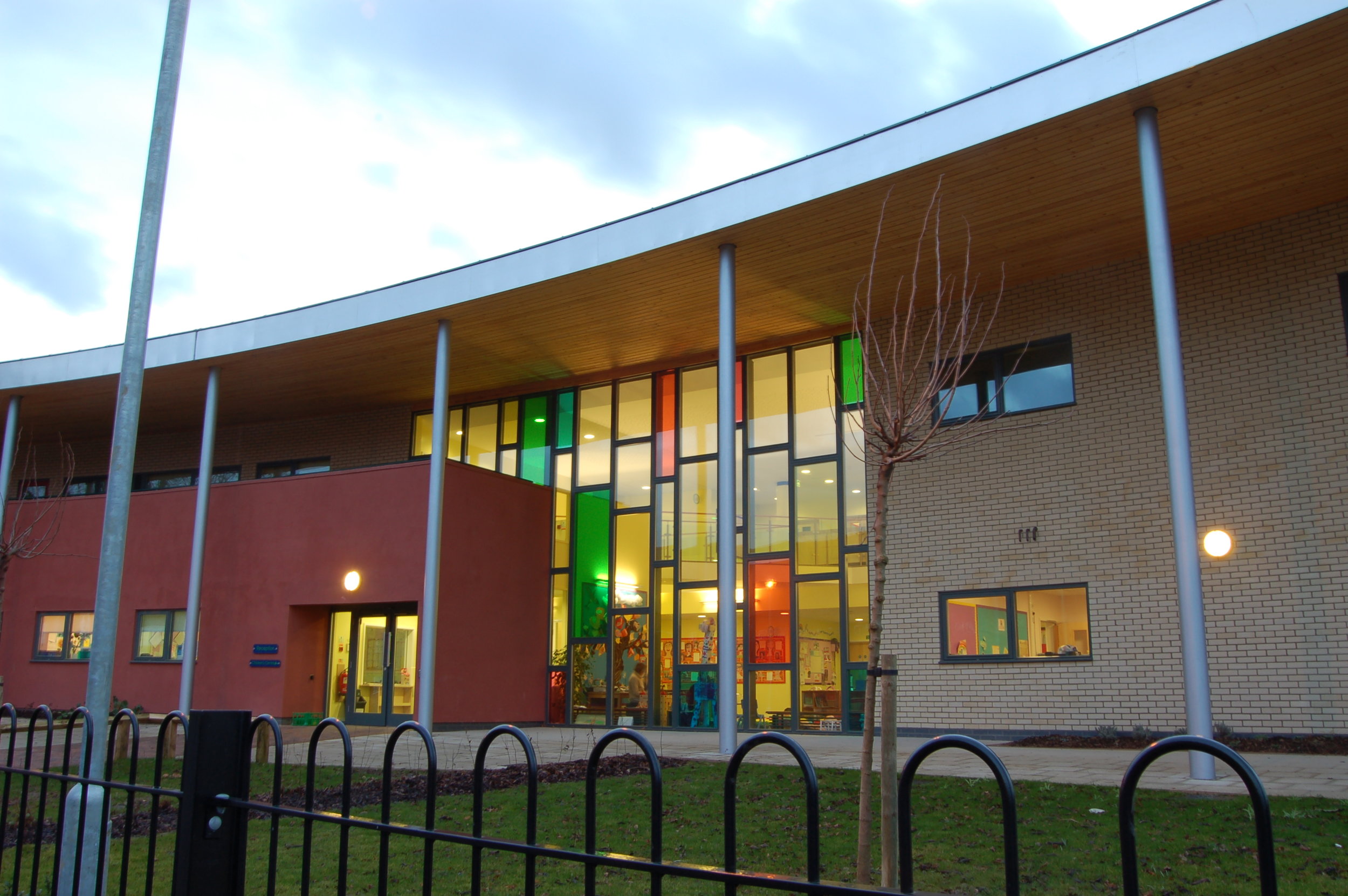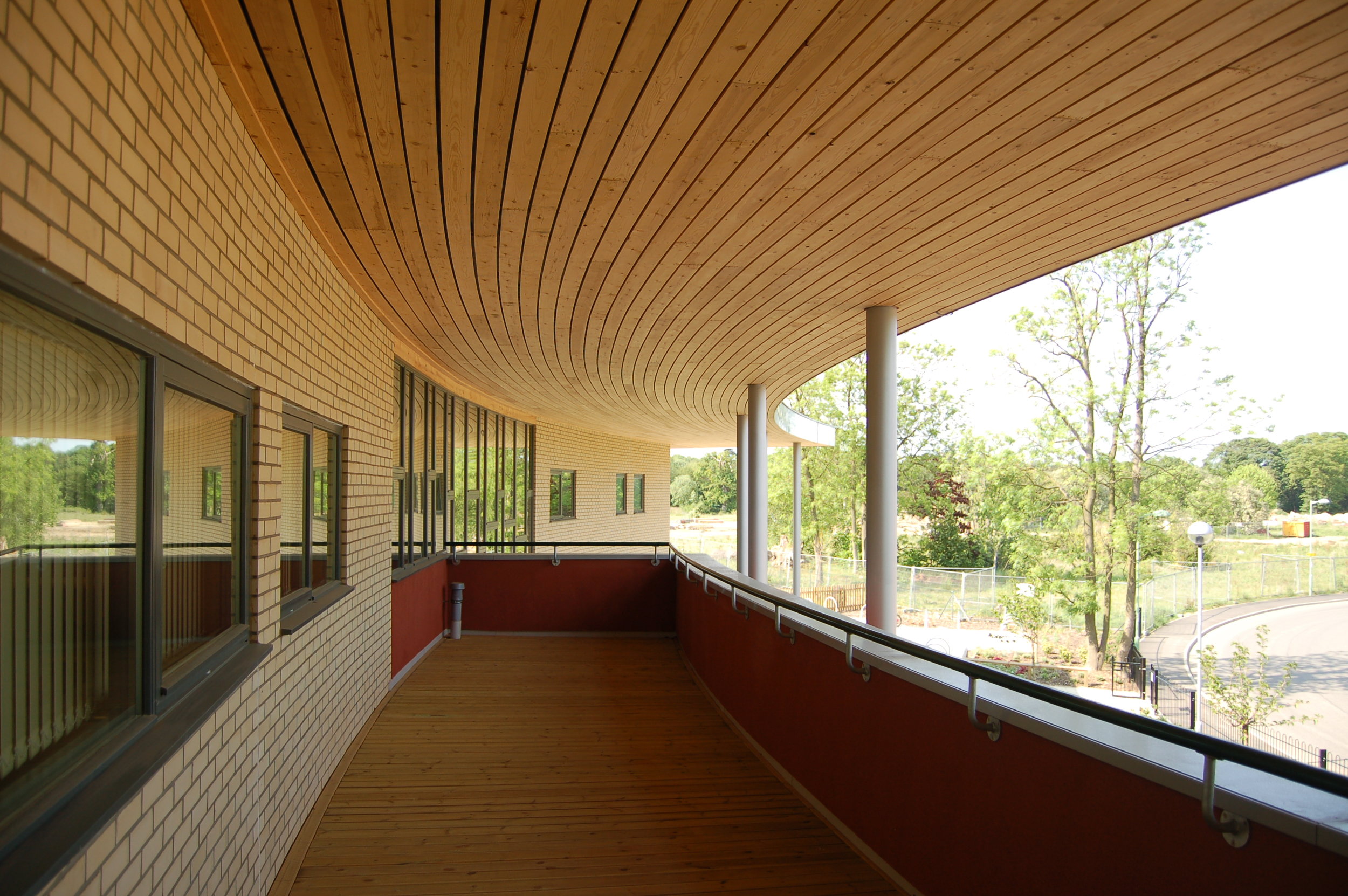 The Overview
For and on behalf of Suffolk County Council, the brief was to provide a first phase of a new community primary school in Rendlesham, a small village near Woodbridge in Suffolk. The first phase provided accommodation over two floors for up to 210 pupils aged 4-11 years, (which will include an integral reception class), together with a 25 place nursery. The building also incorporates an independent Children's Centre.

The housing estate is typical of any estate found elsewhere in the county. Its current size and projected growth identified a real need for additional school places that the nearby village school at Eyke couldn't accommodate. Our approach has always been to create a focal point for the community, buildings with a distinct identity / personality, a place of positive memories.

As a practice we believe strongly in the ethos that; 'Creating a building, a park, a piece of art, that involves and inspires the community, helps to generate a sense of ownership. Ownership encourages a sense of care, civic pride, and strengthens those communities. A well-loved and looked after place is usually somewhere that you or I would like to live or work or spend our leisure time. That final result has an ongoing impact on its community'
The Challenge
The existing site contained a public car park and health centre together with huge soakaway chambers at the frontage. These facilities historically were built and used by the US Air Force. The land had also been the dumping ground for top soil excavated from other sites around the estate.

A sketch Master Plan was quickly developed to lay out the site in terms of building, car parking, playing fields and hard play areas. The size of the site dictated that the building would be two storey. This plan enabled the land negotiations to be agreed which included the demolition of the health centre and ground levels reduced and regraded ready for playing field preparations.

The site is ideally placed in the centre of the village, adjacent to the Sports Centre and small Shopping Centre and public car park.
The Solution
Simply put, the location and shape of the building addresses the natural curve of the site and maximises the available land area for recreational use.

Many of the trees along the sites frontage were diseased or in poor condition and had to be felled. The protection that tree canopies provide led to a design decision to incorporate a large over- hanging soffit along the entrance façade, supported off a row of tall pilottis. In a way, the pilottis replace the vertical emphasis that the trees would have provided to break up the buildings mass, whilst also providing rhythm and rooting the building to the ground. The entrance facade is further animated by a full-height glazed screen incorporating coloured glass, to illuminate the internal atrium and bathe the interior in pale coloured light. The atrium aids natural ventilation from the ground floor.

Material chosen include cream facing brickwork for the bulk of the building, punctuated by pilottis, brise soleil and coloured rendered panels to create vibrant contemporary facades.

A particular emphasis was made on the sustainability of the construction materials and processes and the energy consumption of the building. A healthy internal environment for the children and staff is always a design driver, so a row of passive ventilation chimneys were located on the roof to ventilate ground and first floor classrooms. To provide shade for pupils and to reduce solar heat gain into west facing classrooms, the roof and brise soleil is extended across the length of the elevation.

Heating is provided by way of a Biomass boiler, which was fully integrated into the building along with the wood pellet fuel store.